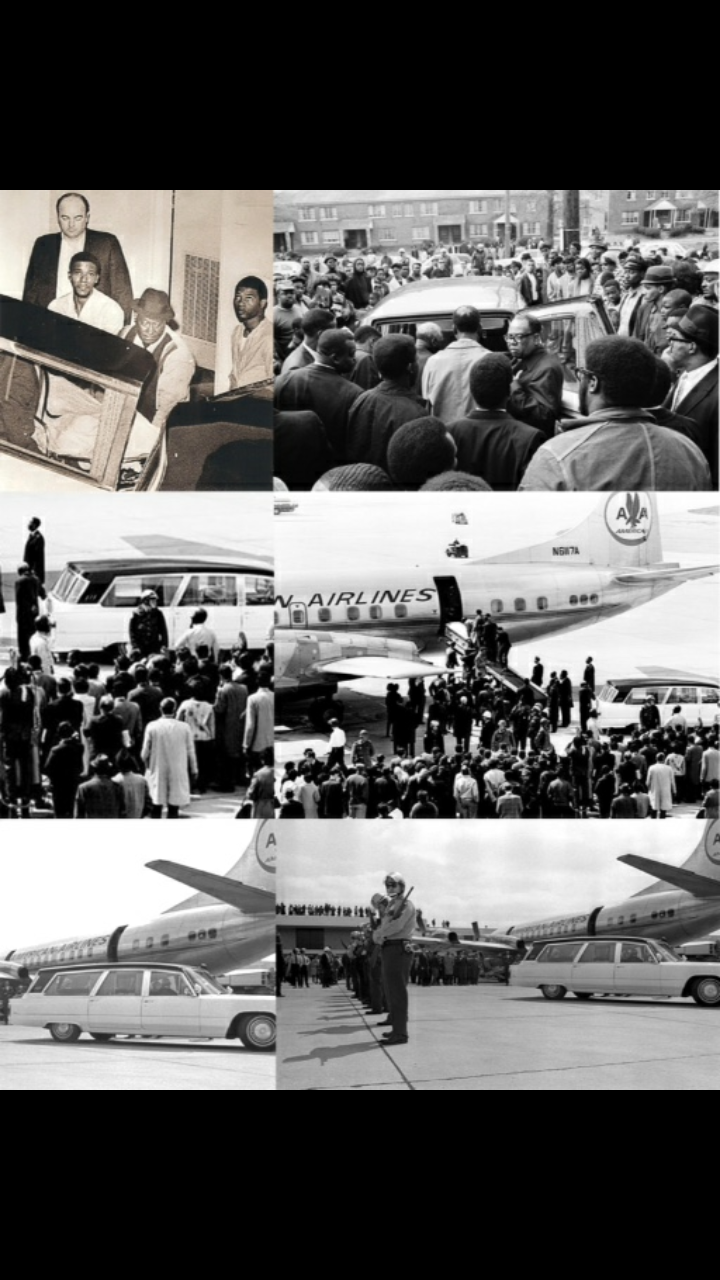 WHAT PRICE CAN YOU PLACE ON SAVING AND SECURING A CRUCIAL PIECE OF CIVIL RIGHTS AND AMERICAN HISTORY?
A major MLK artifact of great historical significance is in need of a home worthy of the tremendous sacrifice that it represents.
The priceless artifact at issue is none other than the original 1966 Cadillac Superior Coach hearse used for Dr. Martin Luther King Jr. on the day of his assassination
in Memphis on April 4, 1968. It was also used on April 5th for his first service and then to carry him to the Memphis airport where he was received by his widow, Coretta
Scott King, and flown back to Atlanta to be laid to rest. Newsreel footage now on YouTube, captured these historic moments frozen in time.
"Dr. King is arguably the single most prominent Civil Rights leader and pioneer of the 20th century; his martyrdom (50 years ago this coming April 4th) instantly immortalized
him and his 'dream of equality" for all time. This important artifact is not only intimately tied to that martyrdom – it stands today as a solemn reminder of the ultimate sacrifice
made by Dr. King with his own life; It is an eternal symbol of the collective struggle of the oppressed; and it is nothing short of true National Treasure". says Gary Zimet, President
MOMENTS IN TIME. He continues, "Although a hearse is a lurid thing to consider; nothing about civil rights is pretty. The harder something is to look at, the easier it is to embrace.
Had there not been a need for a 'Martin Luther King' in civil rights history; there would not have been the need for the public display of his hearse. We must reveal the unvarnished truth-
lest we forget the unfathomable sacrifice. To know where we are going; we must first know where we have been. That is why this important artifact must be preserved for the ages".
NO MAJOR MLK ARTIFACTS IN THE NATIONAL MUSEUM IN OUR NATION'S CAPITAL? …CAN THIS BE TRUE?
It made national news shortly before it's grand opening less than 18 months ago: The largest museum of African American History and Culture would open without a single, significant
MLK artifact; "This, in part, is due to the sheer scarcity of such artifacts in existence …they are just that rare". With the glaring deficit at the National Museum, and his recent discovery
of the existence of the MLK hearse, "the rest seems to be elementary" says Zimet, who is making a public plea for a philanthropic individual or corporation to step in and
secure this national treasure for donation to a major museum where it can be seen by millions of people for generations to come. "If we don't preserve our own history, we erase the common
thread that binds us all as a civilization. I can think of no better time than the 50th anniversary commemoration in April 2018 for this gesture to become a virtual extension of Dr. King's Dream."
A website has been set up for all to see this incredible piece of Civil Rights and American History: www.PreservingTheDream.com