This exceedingly rare original Schindler's List is the only one to ever be on the market. It emanates from the family of Itzhak Stern, Schindler's accountant
and right hand man (played in the movie by Ben Kingsley). The provenance is ironclad. There are 3 others known, two in Yad Vashem, one in the U.S. Holocaust Museum.
This version of the list (there are seven all told) is the penultimate, being 14 pages in length and listing 801 names, dated April 18, 1945.
A more poignant and historic World War 2 relic cannot be imagined. This is the opportunity of a lifetime to acquire an item of truly incredible magnitude. Feel free to contact us with any questions.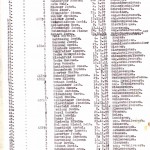 Price: Available Upon Request